Several weeks ago, just before the wot had to close due to the effects of the coronavirus, a working weekend was held. A lot of people were present, a lot of work has been done and the atmosphere was great. A new method of airlift drilling was tested, the cubicle of the outside shower was replaced, maintenance was done for the bicycle rope pump, the lustrum tiles were put on the wall of the indoor solar shower and work has been done for an experimental irrigation system.
You can read more about the airlift drilling here.
Solar shower cubicle
Now that the solar collector of the outdoor solar shower has been renewed, the rickety shower cubicle could not be left behind. This was made clear on a stormy day when half of the stall was blown apart. The working weekend was therefore a good time to pick up this project thoroughly.
The concrete foundation, in which a drain pipe was poured, was still perfectly usable. The plan was to make the walls of recycled fence boards. The underside of the walls would be made from bricks to prevent the wood from being in constant contact with water. Besides, the expectation was that this would give a good looking result.
Wooden posts were placed on each corner of the booth, which was attached to the foundation using a U-profile. With the base frame in place, two teams could work simultaneously on the masonry work (Allard and Kasper) and on the planks and crossbeams of the walls (Joost, Victor, Michelle and Willem). This was no easy task for a cubicle measuring just under a square meter!
At the end of the weekend, the stall stood proudly in front of us. The water tubes and the shower tap were also reinstalled by Willem. The masonry still needed mortar joints, but for this the masonry had to harden for two weeks. Also, the door was not yet completed and the shower lacked a roof. Joost finished the door a day later and Kasper later added the mortar joints. The roof is still missing, but the old door can possibly be reused for this.
Bicycle rope pump
Also the bicycle-powered rope pump was provided maintenance. With a new bracket to hold the pump and the return tube. After this the old paint was sanded off and a new layer was applied to help this pump stay rust-free.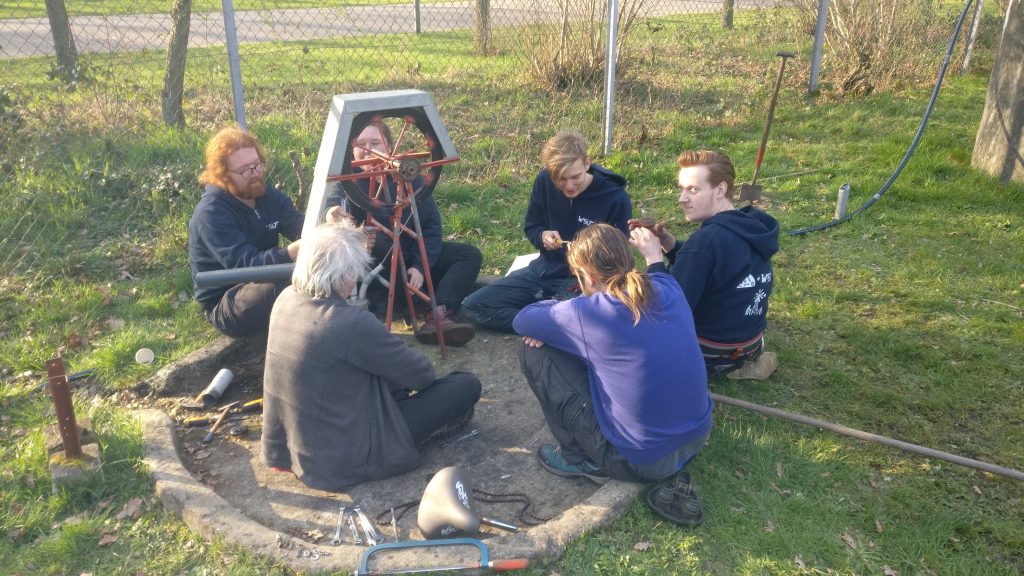 Tiling of the indoor solar shower
Previous year, as a lustrum activity, tiles were decorated by the WOT-members so that they could add some flair to the walls of the indoor shower. It did take some time however before they were also actually placed on the wall. This weekend the task was finally started with. At the end of the day this resulted in a beautiful wall, to which a lot of members contributed. Only some finalising still has to be done.