As WOT members we love making things playing around with all kinds of different tools and materials, since we are not able to collectively do that at our terrain we decided to do it separately.

For this reason we organised the Epic challenges every week we work on a different small project.
-Challenge #3
For this week's challenge members were asked to create an instructional video to explain how to build a marble pump. The video of the winning team would be placed on the youtube channel of the WOT.
Only two submissions were entered and since they both elaborated on a different type of design, it was decided that both videos would be put on the Youtube channel. You can check out the video's at our youtube channel: https://www.youtube.com/channel/UCD9iM7XU_iuZWsFQ9A_F2kg
---
-Challenge #2
We are making bird houses, but not just any bird house contestants are encouraged to make their birdhouse as comfortable and luxurious as possible, and of course creativity and originality are very welcome in this mini project.
On Wednesday 10-3-2021 we voted and birdhouse #3 won, of course hugely due to the Bob Ross television, now we just have to wait and see if the birds like our creations.
---
-Challenge #1
Contestants would fabricate their own unique coffee mug to be used in the kiwanda, for this members used all kinds of techniques, from electroplating and welding to turning and 3d printing.
These are some of the resulting mugs that where produced: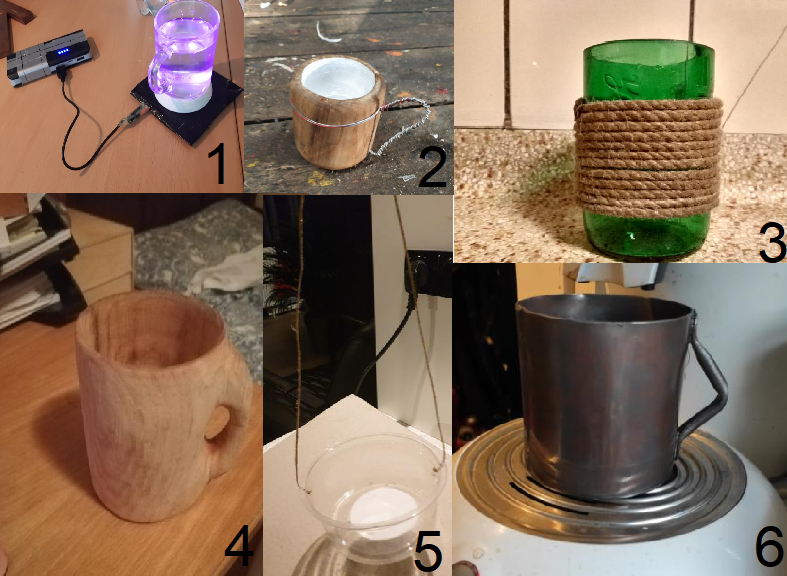 On Wednesday 3-03-21 we voted to determine the winner, and although it was a close call mug #4 won! A mug shaped out of wood using a lathe, a chisel and probably quite some time.