This June, the WOT organized its first physical activity in a long time! In light with the start of producing a Mzuzu well-drilling set, Henk Holtslag from SMART introduced enthusiastic WOTters to the Mzuzu drilling method in a 1-day course.
With regard to an information request on drilling holes through small rocks and thin layers of stone by the Afundisen foundation, the WOT will built and test its own Mzuzu drill set, suitable for this purpose.
Core auger in action
The method consists of 3 different kinds of drill bits and a bailer. Drilling the well starts with the core auger, drilling through layers of loose dirt and clay. The auger can be emptied by pushing the contents on a stick dug in the ground. The drilling speed in this process was about 8 meters per hour.
Once the dirt becomes too wet to use the core auger a spiral auger is used, which is cleaned using a special tool to fit in the spiral. Drilling speed was difficult to measure, but a lot lower compared to the core auger.
The spiral auger in use
Once the mud becomes too viscous for the spiral auger a bailer is used. This bailer is used within the well casing which will sink deeper into the ground by applying some weight while using the bailer. This is different from other drilling methods which generally place the casing after drilling has finished, using drilling liquids in the process to support the well during drilling.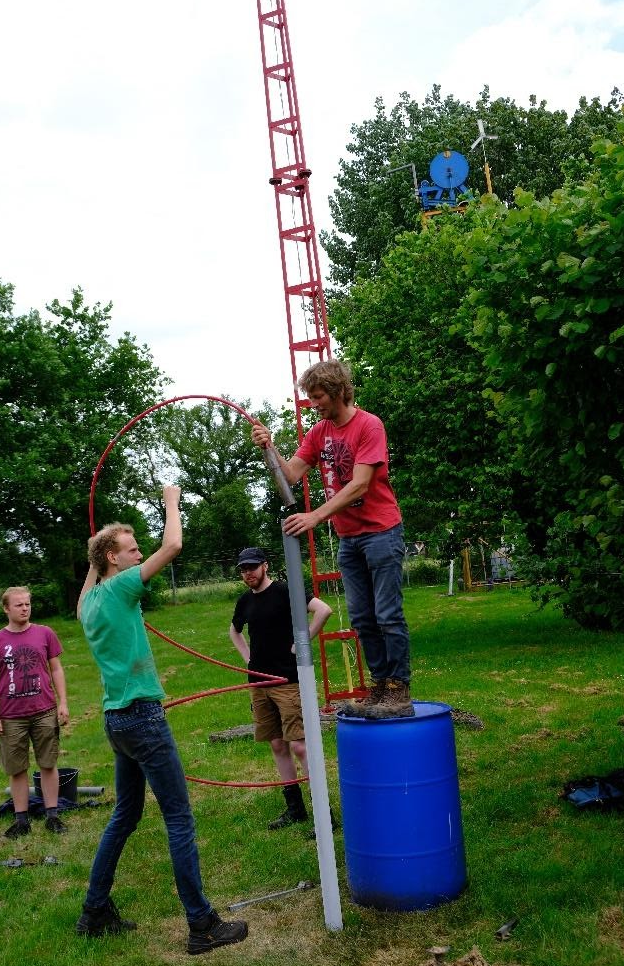 Start of bailing
The bailer that is used acts as a small bucket with a valve at the bottom, filling with sand by a vertical pounding movement. The bailer is suspended in the well casing on a flexible pipe and is emptied using a bucket of water. Once more drilling speeds were difficult to measure, but were even slower than while using the spiral auger.
As a last part the bottom of the well is sealed by dropping a small plastic bag filled with cement into the casing.
During drilling with augers a stone punch, fixed on the same pipe as the two augers, can be used to disintegrate small rocks and thin layers of stone to reach the water aquifer. However the soil on the WOT terrain contains neither, so this has not been practiced.
A big thank you to Henk Holtslag for displaying the Mzuzu drill method to the members of the WOT! Once we have finished building our own Mzuzu drill set we will start with more tests to get experienced and find more accurate drilling speeds, depths and the possibilities of using a stone punch.